The Story behind The Picture of Rafael
January 27, 2017:
Somewhere between Oran, Paris, Cairo, Strasbourg and New York….
In honor of the 72d anniversary of the liberation of Auschwitz and International Holocaust Remembrance Day, I would like to share an old  family story that resurfaced into my life a couple of years ago and has since engendered a vibrant musical tribute and much more beyond. My new album project The Picture of Rafael (Le Portrait de Rafaël) was indeed inspired  by a special connection and an incredible discovery I made in the spring of 2015, while I was still living permanently in New York.
On the morning of April 17, right on the sad 16th anniversary of my father's accidental passing, I received an unexpected message from a high school girl from Cairo who contacted me via my Facebook music page. Mariam, the young teen girl, was doing genealogical research on a great great-uncle named Rafael Ohayon who was born in Algeria, North Africa circa 1900, to a distinguished family of mixed Sephardic (Spanish-Jewish) and Berber ancestry. His last name meant both "eyes" in Arabic and "the light of life" in Hebrew.  Rafael was a multilingual singer, a free-spirited poet, a public writer, a merchant and even a fine taylor who traveled and lived in Europe during the first and second world wars. The diasporic and adventurous life of this brave renaissance family man, former volunteer soldier and multicultural artist was cut short after he was arrested in Paris and deported to Auschwitz in 1942. Rafael was my maternal grandfather. All I had left of him was an old photograph I had posted on my music website to pay homage to my Mediterranean roots. Thanks to this archive visible and referenced on the internet, Mariam found me across the ocean.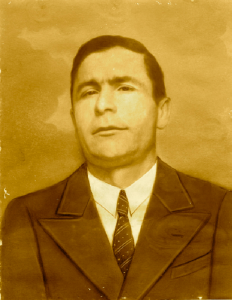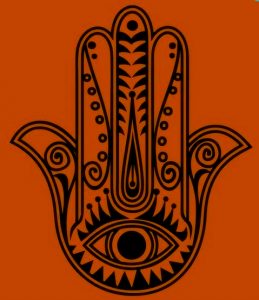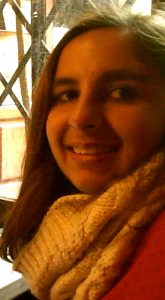 Mariam was born in 1999. She lives in Cairo because her mother whose father was my grandfather's nephew, is a French teacher who went to work there and married an Egyptian man of coptic faith. Mariam is the fruit of that international and inter-faith love story so are her four little brothers whose elder one is even named Rafael (!). Her name in arabic means both "rain drop" and "loved by god." I was impressed by the high level of emotional and intellectual maturity she conveyed for someone of her age when we first talked on Skype a week after our initial connection on Facebook . Mariam wants to later study in Europe to become either an historian or an international human rights lawyer.  Her aforementioned maternal grandfather, Doctor Albert Ohayon, and her were very close. He passed away when she was just 11, yet he managed to nurture in her a strong interest in Mediterranean Jewish culture as well as in genealogy. Albert knew he once had a distant uncle named Rafael who perished in WWII but he believed all along that the latter had died leaving no descent behind whatsoever. Mariam was then even more happily surprised to hear I was Rafael's grandson. Rafael actually had five children including my beautiful and musically talented mother who hardly got to know him.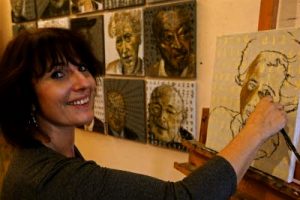 Through her relentless research, Mariam also connected remotely with Francine Mayran-Hertzog,  a French painter and illustrator based in Strasbourg. Francine devotes her work to illustrating not only the tragedies endured by her Jewish people but also those of the Armenian and Rwandan generations who were respectively exposed to genocides. Francine developed a strong liking and admiration in Mariam, a brave young teen who is eager and fearless to research her Jewish heritage while living and going to school in a predominantly Muslim conservative land like Egypt.  In her honor, she decided to paint a portrait of Mariam's great great-uncle Rafael, using the same old photograph that was posted on my musical site, even though she hardly knew anything about him, nor was she aware he was survived by immediate family still living now. I discovered the existence of that painting and even got a glimpse at it on Facebook the same day my little cousin from Cairo came into my life.  I was also informed that the painting was to be exhibited at multiple memorial events all across Europe.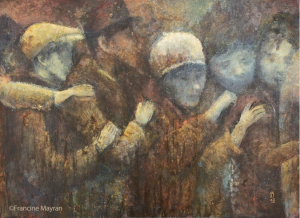 I wanted my new disk to be not only about Rafael but also about the themes that this touching story inspired in me: family bonds, love, exile, cultural heritage, resilience and the transmission of our collective memory. Despite the rather serious subject matter and tragic starting point, I did not want the album to dwell heavily into melancholy. In contrast, I actually wanted to feature festive music, positive and cathartic songs to honor the curious, joyous and luminous soul Rafael was.  I started imagining what countries and musical styles my grandfather would have explored, what other artists he would have admired, had he survived and lived through the post-war decades that preceded my birth: the 40's, 50's and the 60's.
Speaking of survivor, my widowed-grandmother who was spared during WWII,  grieved Rafael's loss over 40 years. She died during my 12th summer on July 14th, 1982 right on French Bastille Day celebration. Overall she never talked too much about her deported husband's arrest and assassination when I was around but once told me a story that would later resonate with choices I made in my life.  She indeed revealed that Rafael's dream was to take the whole family on a ship from North Africa or Marseilles and cruise across the Atlantic all the way to port cities like New York or Buenos Aires where they could start a new life in a land of freedom and opportunities.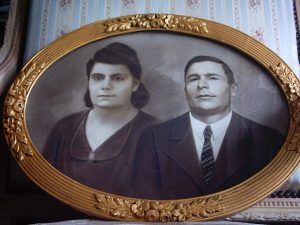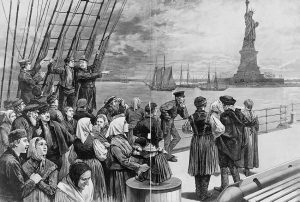 55 years after Rafael's tragic passing, I had the chance, in the late 90's, to relocate overseas from my hometown Paris to New York City where I was to gain a long and rich experience that would forever shape the personal, cultural, professional and artistic contours of my young adult life.  In July 2012,  30 years after my grandmother left us, I was officially naturalized a Citizen of the United States after living and working permanently in the country for 14 years. My second country, the one that liberated Europe from the Nazi occupation, was adopting me for good. I think my grandfather would have been proud for me and for the family legacy. Symbolically I received this long-awaited honor at the exact same age Rafael lost his life.  I feel like the dream of my free-spirited grandfather lived through mine, a grandfather whose countenance I never saw in person, but whose presence remains forever in my heart, for his courage, dignity, and inspiration. The day that Mariam contacted me to inquire about him and I found out who she was and discovered the poignant painted picture of Rafael, I understood more than ever the true meaning of family bond and heritage and how it can stand the test of time and long distance, sometimes even skipping a generation. A transatlantic bridge had been built  to transmit our memory and Mariam's search for hope was echoed and rewarded.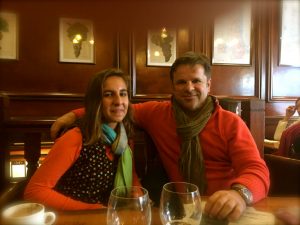 The album is the soundtrack of this quest and journey. I would like to dedicate it to Rafael and my grandmother, to my late father and loving mother, to my newly-found little cousin Mariam whom I finally met in person in Paris, to my whole family, to Francine the painter and to the memory of all the victims of tragic events and barbaric acts whose hopes and dreams were taken away from them way too soon.
May the world be filled with joy, love and peace, and be rocked by the music of the heart. May we never lose face or faith ever again.
Never forget, Ne jamais oublier, Ha-Shoa Le'Olam Lo Shuv
Pascalito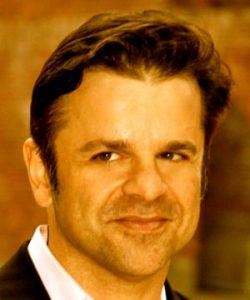 A former Wall Street risk analyst and competitive waterskier, Pascal Sabattier is a French American writer, consultant and translator who divides his time between Paris and New York. As a musical artist, he has released four albums under the moniker Pascalito, produced by his independent label Neostalgia Music NYC. His original works have been licensed and featured in the popular cable network TV shows Burn Notice (USA), Damages (FX) and NCIS Los Angeles (CBS).
Image & photo credits:  Francine Mayran-Hertzog (Rafael & Holocaust paintings) / Shepard Fairey (Obama's Hope) / Frank Leslie (Statue of Liberty, Ellis Island) / JP Kadzinski (Naturalization ceremony) /Eve Bismuth (Mariam)
Music Video (below): Arié Ohayon @ Acoustic Sterling Studio, Brooklyn